A SUSTAINABLE FUTURE WITH AGRICULTURE 4.0
Keywords:
Smart Agriculture, Agriculture 4.0, Mechanization in Agriculture, Sustainable Agriculture
Abstract
Rapid increase in world population has been observed in recent years. This increase brings the nutritional problem, which is the most important building block for the maintenance of humanlife, and it is imperative to find a sustainable solution to the problem. The world population, which is 7.7 billion, is estimated to reach 9.7 billion people in 2050, and it is thought that agricultural production should be increased by 70% in order to meet the nutritional needs. The solution to find out how to achieve this agricultural production increase and how it will be permanent in the changing climate conditions today will also reduce the nutritional problem. Traditional farming methods are no longer enough. In some countries, practices are given to increase efficiency and reduce costs with Agricultural 4.0 systems. This practice refers to the digitalization of the agricultural sector. For this reason, it will be possible with the process such as less water, fertilizer, fuel used in production and at the same time to obtain more of the product resulting from production. In this study, the necessity of our country to adopt Agriculture 4.0 practices in order to achieve more efficient, more environmentally friendly, sustainable growth, smart growth based on knowledge, innovation and technology in the agricultural sector was mentioned. At the same time the agricultural sector and that a significant position in terms of exports of agricultural products Netherlands, Taiwan, Israel, Japan, the United States and examined the UK's smart farming practices and experiences in analyzing the overall situation of Turkey is made.
References
Akay, M., 2018. Endüstri 4.0'la Akıllı Tarıma Geçiş, Endüstri 4.0 Perspektifinde Akıllı Tarım (Smart Agriculture in Industry 4.0 Perspective)
Anonim 2014. Tarım Arazilerinin Sürdürülebilir Kullanımı Çalışma Grubu Raporu, Onuncu Kalkınma Planı (2014-2018), 79s.
Anonim 2018. Sürdürülebilir Tarım İlkeleri İyi Uygulamalar Rehberi, SKD Türkiye, Ömür Matbaacılık, 64S.
Anonim 2019. Statistics Netherlands-CBS, Centraal Bureau voor de Statistiek
Arıcı, İ., Kirmikil, M., Gündoğdu, K.S., Akkaya Aslan, Ş.T. 2017. Toplulaştırmasının Gerekliliği, Yarattığı Fırsatlar, Biyosistem Mühendislerinin Bu Çalınmalardaki Yeri ve Önemi, Gaziosmanpaşa Bilimsel Araştırma Dergisi (GBAD) Cilt/ 6, Sayı: Özel Sayı (BSM 2017), 70-74 ISSN: 2146-8168
Bıçakçı, S.N. 2019. Nesnelerin İnterneti, Takvim-i Vekayi, 24-36, ISSN: 2148-0087
Çetin, Ç., Yaman, N., Sabah, L., Ayday, E. ve Ayday, C., 2013. Bulut Bilişim (Cloud Computing) Teknolojisinin Uzaktan Algılama ve Coğrafi Bilgi Sistemlerinde Uygulama Olanakları, Türkiye Ulusal Fotogrametri ve Uzaktan Algılama Birliği VII. Teknik Sempozyumu, 23-25 Mayıs, Trabzon.
David, I.B., (2017). Agriculture in Israel Where R&D Meets Nation Needs ,State of Israel,Ministry of Agriculture & Rural Development, Deputy Director General (Foreign Trade), Sacramento (CA)., May 25, 2017
Duman, B., Özsoy, K. 2019. Endüstri 4.0 Perspektifinde Akıllı Tarım, 4th International Congress On 3d Printing (Additive Manufacturing) Technologies And Digital Industry, 540-555.
Ercan Ş., Öztep, R., Güler, D., Saner G. 2019. Tarım 4.0 ve Türkiye'de Uygulanabilirliğinin Değerlendirilmesi. Tarım Ekonomisi Dergisi, 2019, 25:2, 259-265.
Gökrem, L., Bozuklu, M. 2016. Nesnelerin İnterneti: Yapılan Çalışmalar ve Ülkemizdeki Mevcut Durum, Gaziosmanpaşa Bilimsel Araştırma Dergisi, Volume , Issue 13, Pages 47 - 68
Kılavuz, E., Erdem, İ. 2019. Dünyada Tarım 4.0 Uygulamaları ve Türk Tarımının Dönüşümü, Social Sciences, 14.4: 133-157.
Kaya, M. 2019. Ağrı'nın Kalkınması için Akıllı Tarım (Tarım 4.0) Önerisi, Akademikbakış Dergisi Sayı: 75, 130-156.
Kirmikil, M., Akkaya Aslan, Ş.T., Gündoğdu, K.S., Arıcı, İ. 2017. The Hidden Fragmentation After Land Consolidation in Turkey, Fresenius Environmental Bulletin,Volume 26 – No. 10/2017 pages 5882-5890.
Kirmikil, M., Aydus, D. 2018. Arazi Toplulaştırma Projelerinin Kırsal Alanlarda Yakıt Giderlerine ve Tarımsal Mekanizasyona Etkisi, Süleyman Demirel Üniversitesi Ziraat Fakültesi Dergisi, 1. Uluslararası Tarımsal Yapılar ve Sulama Kongresi Özel Sayısı:31-42, 2018, ISSN 1304-9984
Saygılı, F., Kaya, A.A., Çalışkan, E.T. ve Kozal, Ö.E., 2018, Türk Tarımının Global Entegrasyonu ve Tarım 4.0, İzmr Tcaret Borsası, Yayın No: 98, İzmir
Teke, M. Deveci H.S., Öztoprak, F., Efendioğlu, M., Küpçü, R. Demirkesen, C, Şimşek,F.F., Bağcı, B., Uysal, E., Türker, U., Yıldırım, E., Bayramin, İ., Kalkan, K., Demirpola C. 2016. Akıllı Tarım Fizibilite Projesi: Hassas Tarım Uygulamaları İçin Havadan Ve Yerden Veri Toplanması, İşlenmesi Ve Analizi, 6. Uzaktan Algılama-CBS Sempozyumu (UZAL-CBS 2016), 5-7 Ekim 2016, Adana
Uzun, Y., Bilban, M. ve Arıkan, H., 2018. Tarım ve Kırsal Kalkınmada Yapay Zeka Kullanımı, VI. Uluslararası KOP Bölgesel Kalkınma Sempozyumu, 26-27 Ekim, Konya.
Uzundumlu, A.S. 2012. Tarım Sektörünün Ülke Ekonomisindeki Yeri ve Önemi, Alınteri 22(B) – 2012 34-44, ISSN:1307-3311.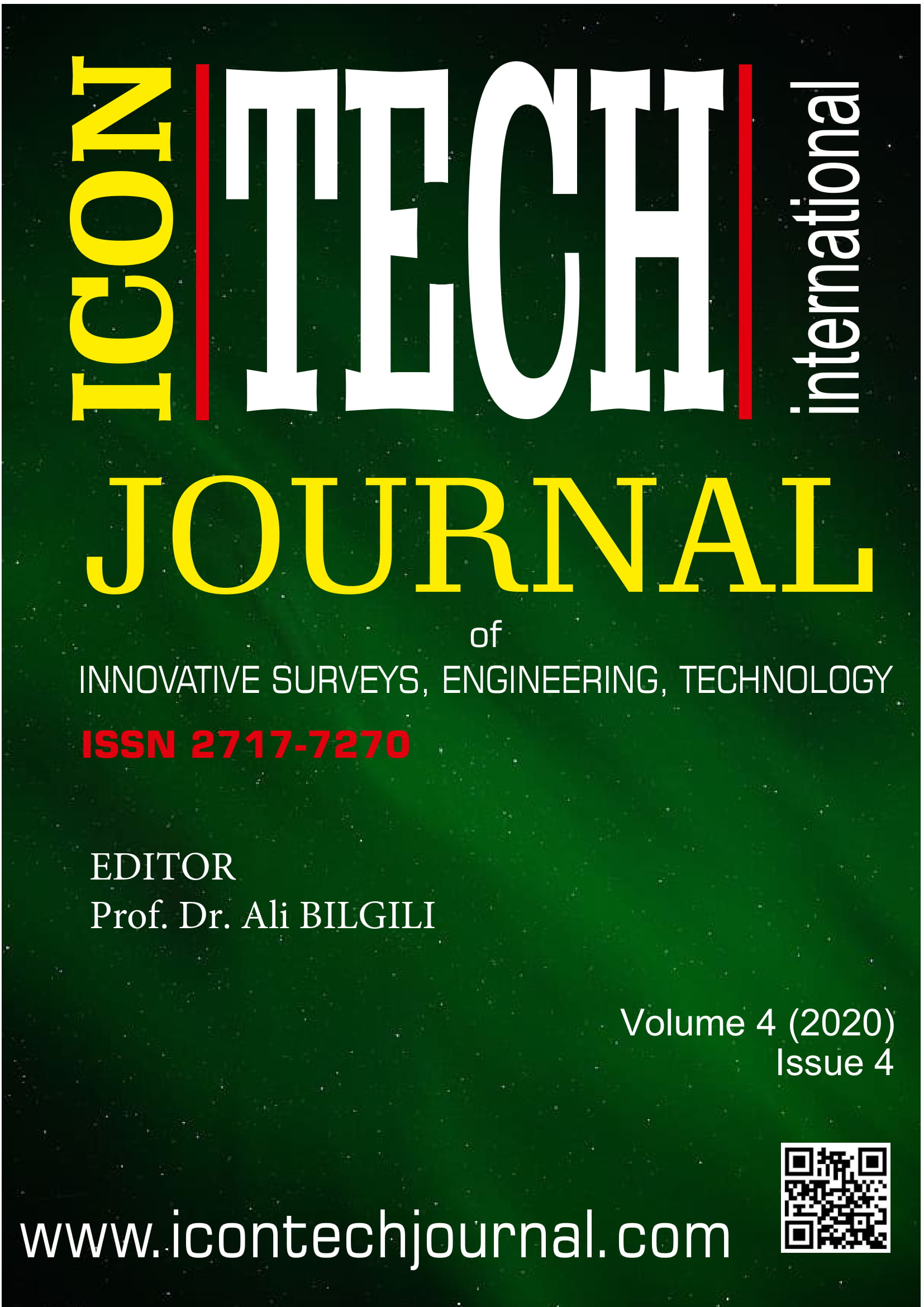 Downloads
How to Cite
ERTAŞ, B. (2020). A SUSTAINABLE FUTURE WITH AGRICULTURE 4.0. ICONTECH INTERNATIONAL JOURNAL, 4(1), 1–12. https://doi.org/10.46291/ICONTECHvol4iss1pp1-12
License
Copyright (c) 2020 ICONTECH INTERNATIONAL JOURNAL
This work is licensed under a Creative Commons Attribution-NonCommercial-NoDerivatives 4.0 International License.