Kedi ve Köpeklerde Deri Mantar Enfeksiyonlarının İnsanlarda Oluşturduğu Sağlık Riskleri, Kontrol ve Sağaltım Seçenekleri
Keywords:
Dermatophytosis, Public health, Control methods, Treatment choices
Abstract
Dermatophytoses are superficial fungal infections caused by dermatophytes affecting structures such as skin, hair, nail in growing under hot, humidity conditions and unhygienic environments. It is known that fungal infections of skin and nail affect 20-25% of the world population. Dermatophyte type commonly seen in cats and dogs is primarily Microsporium canis (M. canis), and they carry other species such as M. nanum, M. gypseum, Trichophyton mentagrophytes (T. mentagrophytes), T. terrestre as well. Healthy domestic cats and dogs are reservoirs of infection and generally carriers of M. canis. They cause fungal lesions on skin and head region by transmission to humans in contact with contaminated environment and animals. Any disease in the body, poor nutrition, high temperature, humidity, trauma of the skin, skin injury due to ectoparasites, overcrowded and unhygienic contiditions are risk factors leading to dermatophytosis. In the context of this review, in the light of mentioned knowledge, brief knowledge was given about occupation groups at risk, especially veterinarians, including persons involved with livestock raising, owners of cats and dogs, veterinary technicians, and dairymen. The importance of disease and the current condition were discussed by presenting prevalence data of dermatophytosis in animals and humans in recent years in Turkey and the world. Furthermore, brief knowledge was given based on recent scientific sources for clinical signs, diagnosis, treatment choices and protection and control methods of disease.
References
Abdel-Rady, A., & Kotb, S. (2008). Some epidemiological studies on ringworm in cattle at Assiut governorate, Egypt. Suez Canal Veterinary Medical Journal, 12, 327-335.
Aboueisha, A. M., & El-Mahallawy, H. (2013). Public health significance of dermatophytes in Ismailia and Port Said Provinces, Egypt. Medical Mycology Journal, 54(2), 123-129.
Adebiyi, A. I., & Oluwayelu, D. O. (2018). Zoonotic fungal diseases and animal ownership in Nigeria. Alexandria Journal of Medicine, 54(4), 397-402.
Adel, E., Mohammad, H. S. S., & Asghar, F. (2014). Tinea capitis in primary and middle school students in south-east of Iran. Science Journal of Public Health, 2, 205-208.
Aman, S., Hussain, I., & Haroon, T. S. (2017). Successful treatment of tinea capitis with griseofulvin caused by Microsporum canis. Journal of Pakistan Association of Dermatology, 13(3), 123-126.
Anane, S. (2012). Epidemiological investigation of keratinophilic fungi from soils of Djerba (Tunisia). Journal de Mycologie Medicale, 22(3), 225-229.
Arda, M. (2000). Temel Mikrobiyoloji (M. Arda Ed. 2. Baskı ed.). Ankara: Medisan Yayınevi.
Baumgardner, D. J. (2017). Fungal infections from human and animal contact. Journal of Patient-Centered Research and Reviews, 4(2), 78-89.
Bedir, T., Badawy, W., Gouda, N. S., & Ghanem, B. M. (2014). Evaluation of dermatophyte identification medium for recovery of keratinophillic fungi from clinical samples. Egyptian Journal of Medical Microbiology, 23(3), 67-74.
Bilek, J., Baranova, Z., Kozak, M., Fialkovicova, M., Weissova, T., & Sesztakova, E. (2005). Trichophyton mentagrophytes var. quinckeanum as a cause of zoophilic dermatomycosis in a human family. Bratislavske Lekarske Listy, 106(12), 383.
Borgers, M., Xhonneux, B., & Van Cutsem, J. (1993). Oral itraconazole versus topical bifonazole treatment in experimental dermatophytosis. Mycoses, 36(3‐4), 105-115.
Brilhante, R., Cavalcante, C., Soares-Junior, F., Cordeiro, R., Sidrim, J., & Rocha, M. (2003). High rate of Microsporum canis feline and canine dermatophytoses in Northeast Brazil: epidemiological and diagnostic features. Mycopathologia, 156(4), 303-308.
Brillowska-Dabrowska, A., Michałek, E., Saunte, D. M. L., Søgaard Nielsen, S., & Arendrup, M. C. (2013). PCR test for Microsporum canis identification. Medical Mycology, 51(6), 576-579.
Brosh-Nissimov, T., Ben-Ami, R., Astman, N., Malin, A., Baruch, Y., & Galor, I. (2018). An outbreak of Microsporum canis infection at a military base associated with stray cat exposure and person-to-person transmission. Mycoses, 61(7), 472-476. doi:10.1111/myc.12771
Carman, M. G., Rush-Munro, F., & Carter, M. E. (1979). Dermatophytes isolated from domestic and feral animals. New Zealand Veterinary Journal, 27(7), 136-144.
Cervetti, O., Paola, A., Veronica, A., Federica, I., Manuela, N., & Michele, P. (2014). Tinea capitis in adults. Advances in Microbiology, 4, 12-14.
Chansiripornchai, P. & Suanpairintr, N. (2015). Treatment of Microsporum canis infection in a cat using a fungal vaccine. The Thai Journal of Veterinary Medicine, 45(4), 645-649.
Chermette, R., Ferreiro, L., & Guillot, J. (2008). Dermatophytoses in animals. Mycopathologia, 166(5-6), 385-405.
Çiftçi, A., İça, T., Sareyyüpoğlu, B. & Müştak, H. K. (2005). Kedi ve köpek dermatofitozlarından izole edilen mantarların retrospektif değerlendirilmesi. Ankara Üniversitesi Veteriner Fakültesi Dergisi, 52, 45-48.
Dave, P., Mahendra, R. & Pal, M. (2014). Growing significance of Microsporum canis in tinea of animal handlers. Journal of Environmental and Occupational Science, 3(4), 193.
Debnath, C., Mitra, T., Kumar, A. & Samanta, I. (2016). Detection of dermatophytes in healthy companion dogs and cats in eastern India. Iranian Journal of Veterinary Research, 17(1), 20.
Demir, M., Aksoy, M., & Bayraktar, M. (2018). Microsporum canis'e bağlı bir Tinea fasiyalis inkognito olgusu. Turkiye Klinikleri Journal of Dermatology, 28(1), 20-23.
Dokuzeylul, B., Basaran-Kahraman, B., Sigirci, B., Gulluoglu, E., Metiner, K., & Or, M. (2013). Dermatophytosis caused by a Chrysosporium species in two cats in Turkey: A case report. Veterinarni Medicina, 58, 633-636.
Donnelly, T. M., Rush, E. M., & Lackner, P. A. (2000). Ringworm in small exotic pets. Paper presented at the Seminars in Avian and Exotic Pet Medicine.
Drouot, S., Mignon, B., Fratti, M., Roosje, P., & Monod, M. (2009). Pets as the main source of two zoonotic species of the Trichophyton mentagrophytes complex in Switzerland, Arthroderma vanbreuseghemii and Arthroderma benhamiae. Veterinary Dermatology, 20(1), 13-18.
Eissa, N., Ezzat, M., El-Sawah, A., & El-Hamoly, M. (2013). Survey on common causative agents of dermatophytosis in different animals in El-Beida-Libya. Benha Veterinary Medical Journal, 24, 108-115.
Fehr, M. (2015). Zoonotic potential of dermatophytosis in small mammals. Journal of Exotic Pet Medicine, 24(3), 308-316.
Ferguson, L., & Fuller, L. C. (2017). Spectrum and burden of dermatophytes in children. Journal of Infection, 74, S54-S60.
Frymus, T., Gruffydd-Jones, T., Pennisi, M. G., Addie, D., Belák, S., Boucraut-Baralon, C., … Lloret, A. (2013). Dermatophytosis in cats: ABCD guidelines on prevention and management. Journal of Feline Medicine and Surgery, 15(7), 598-604.
Gonçalves, G. A. M. (2015). Ringworm by Microsporum canis in long-tailed chinchilla (Chinchilla lanigera). Acta Veterinaria Brasilica, 9(3), 274-278.
Gräser, Y., Monod, M., Bouchara, J.-P., Dukik, K., Nenoff, P., Kargl, A., … Chaturvedi, V. (2018). New insights in dermatophyte research. Medical Mycology, 56(suppl_1), S2-S9.
Gupta, A. K., Foley, K. A., & Versteeg, S. G. (2017). New antifungal agents and new formulations against dermatophytes. Mycopathologia, 182(1-2), 127-141.
Havlickova, B., Czaika, V. A., & Friedrich, M. (2008). Epidemiological trends in skin mycoses worldwide. Mycoses, 51, 2-15.
Ilhan, Z., Karaca, M., Ekin, I. H., Solmaz, H., Akkan, H. A., & Tutuncu, M. (2016). Detection of seasonal asymptomatic dermatophytes in Van cats. Brazilian Journal of Microbiology, 47(1), 225-230.
Iorio, R., Cafarchia, C., Capelli, G., Fasciocco, D., Otranto, D., & Giangaspero, A. (2007). Dermatophytoses in cats and humans in central Italy: epidemiological aspects. Mycoses, 50(6), 491-495. doi:10.1111/j.1439-0507.2007.01385.x
Katiraee, F., Helan, J. A., & Teifoori, F. (2016). Multiple cases of feline dermatophytosis due to Microsporum canis transmitted to their owners. Journal of Zoonotic Diseases, 1, 24-27.
Kheira, H., Selselet, A., & Bensoltane, S. (2007). Dermatophytes in North West of Algeria: a prospective study. Middle-East Journal of Scientific Reearch, 2, 104-106.
Kupsch, C., Berlin, M., & Gräser, Y. (2017). Dermophytes and guinea pigs: an underestimated danger? Der Hautarzt; Zeitschrift fur Dermatologie, Venerologie, und Verwandte Gebiete, 68(10), 827-830.
Maraki, S., & Mavromanolaki, V. E. (2016). Epidemiology of dermatophytoses in crete, greece. Medical Mycology Journal, 57(4), E69-E75.
Martínez, E., Ameen, M., Tejada, D., & Arenas, R. (2014). Microsporum spp. onychomycosis: disease presentation, risk factors and treatment responses in an urban population. Brazilian Journal of Infectious Diseases, 18(2), 181-186.
Mattei, A., Madrid, I., Santin, R., Schuch, L., & Meireles, M. (2014). Occurrence of fungi with pathogenic potential in shearing tools. Archives of Veterinary Science, 19, 4-45.
Mattei, A. S., Beber, M. A., & Madrid, I. M. (2014). Dermatophytosis in small animals. SOJ Microbiology and. Infectious. Diseases, 2(3), 1-6.
Mignon, B., & Monod, M. (2011). Zoonotic infections with dermatophyte fungi. Oxford Textbook of Zoonoses-Biology, Clinical Practice, and Public Health Control.
Moretti, A., Agnetti, F., Mancianti, F., Nardoni, S., Righi, C., Moretta, I., … Papini, M. (2013). epidemiological, clinical and zoonotic aspects. Giornale Italiano di Dermatologia e Venereologia, 148, 563-572.
Moriello, K. A. (2001). Diagnostic techniques for dermatophytosis. Clinical Techniques in Small Animal Practice, 16(4), 219-224.
Moriello, K. A. (2004). Treatment of dermatophytosis in dogs and cats: review of published studies. Veterinary Dermatology, 15(2), 99-107.
Moriello, K. A. (2015). Kennel Disinfectants for Microsporum canis and Trichophyton sp. Veterinary Medicine International, 2015.
Moriello, K. A. (2017). Decontamination of carpet exposed to Microsporum canis hairs and spores. Journal of Feline Medicine and Surgery, 19(4), 435-439.
Moriello, K. A., Coyner, K., Paterson, S., & Mignon, B. (2017). Diagnosis and treatment of dermatophytosis in dogs and cats. Clinical Consensus Guidelines of the World Association for Veterinary Dermatology. Veterinary Dermatology, 28(3), 266-e268.
Nenoff, P., Uhrlaß, S., Krüger, C., Erhard, M., Hipler, U. C., Seyfarth, F., … Gräser, Y. (2014). Trichophyton species of Arthroderma benhamiae–a new infectious agent in dermatology. JDDG: Journal der Deutschen Dermatologischen Gesellschaft, 12(7), 571-581.
Neves, J., Paulino, A., Vieira, R., Nishida, E., & Coutinho, S. (2018). The presence of dermatophytes in infected pets and their household environment. Arquivo Brasileiro de Medicina Veterinária e Zootecnia, 70(6), 1747-1753.
Newbury, S., Moriello, K. A., Kwochka, K. W., Verbrugge, M., & Thomas, C. (2011). Use of itraconazole and either lime sulphur or Malaseb Concentrate Rinse® to treat shelter cats naturally infected with Microsporum canis: an open field trial. Veterinary Dermatology, 22(1), 75-79.
Nuttall, T., German, A., Holden, S., Hopkinson, C., & McEwan, N. (2008). Successful resolution of dermatophyte mycetoma following terbinafine treatment in two cats. Veterinary Dermatology, 19(6), 405-410.
Nweze, E., & Eke, I. (2016). Dermatophytosis in northern Africa. Mycoses, 59(3), 137-144.
Or, E., Kaymaz, A. A., Dodurka, T., Tan, H., & Özgür, N. Y. (1999). Zonotic Microsporum canis infection. Turkish Journal of Veterinary and Animal Sciences, 23(3), 293-296.
Oudaina, W., Biougnach, H., Riane, S., El, I. Y., Tangi, R., Ajdae, L., . . . Tligui, H. (2011). Epidemiology of tinea capitis in outpatients at the Children's Hospital in Rabat (Morocco). Journal de Mycologie Medicale, 21(1), 1-5.
Parmar, B. C., Nayak, J. B., M.N, B., Chaudhary, J. H., Patel, S. A., & Gida, H. K. (2018). Prevalence of dermatophytosis in animal and human population with special reference to its zoonotic significance. International Journal of Pure Applied Bioscience, 6, 687-691.
Pasquetti, M., Min, A. R. M., Scacchetti, S., Dogliero, A., & Peano, A. (2017). Infection by Microsporum canis in Paediatric Patients: A Veterinary Perspective. Veterinary Sciences, 4(3), 46. doi:10.3390/vetsci4030046.
Patel, A., Lloyd, D., & Lamport, A. (2005). Survey of dermatophytes on clinically normal cats in the southeast of England. Journal of Small Animal Practice, 46(9), 436-439.
Saghrouni, F., Bougmiza, I., Gheith, S., Yaakoub, A., Gaïed-Meksi, S., Fathallah, A., . . . Ben, M. S. (2011). Mycological and epidemiological aspects of tinea capitis in the Sousse region of Tunisia. Paper presented at the Annales de Dermatologie et de Venereologie.
Segal, E., & Elad, D. (2018). Treatments for fungal infections. Journal of Fungi, 4, 135.
Seker, E., & Dogan, N. (2011). Isolation of dermatophytes from dogs and cats with suspected dermatophytosis in Western Turkey. Preventive Veterinary Medicine, 98(1), 46-51. doi:10.1016/j.prevetmed.2010.11.003
Sieklucki, U., Oh, S. H., & Hoyer, L. L. (2014). Frequent isolation of Arthroderma benhamiae from dogs with dermatophytosis. Veterinary Dermatology, 25(1), 39-e14.
Spiewak, R., & Szostak, W. (2000). Zoophilic and geophilic dermatophytoses among farmers and non-farmers in Eastern Poland. Annals of Agricultural and Environmental Medicine, 7(2), 125-129.
Vermout, S., Tabart, J., Baldo, A., Mathy, A., Losson, B., & Mignon, B. (2008). Pathogenesis of dermatophytosis. Mycopathologia, 166(5-6), 267.
Wisal, G. (2018). An over view of canine dermatophytosis. South Asian Journal of Research in Microbiology, 2, 1-16.
Yapıcıer, Ö. Ş., Şababoğlu, E., Öztürk, D., Pehlivanoğlu, F., Kaya, M., & Türütoğlu, H. (2017). Kedi ve köpeklerden dermatofitlerin izolasyonu. Mehmet Akif Ersoy Üniversitesi Veteriner Fakültesi Dergisi, 2(2), 125-130.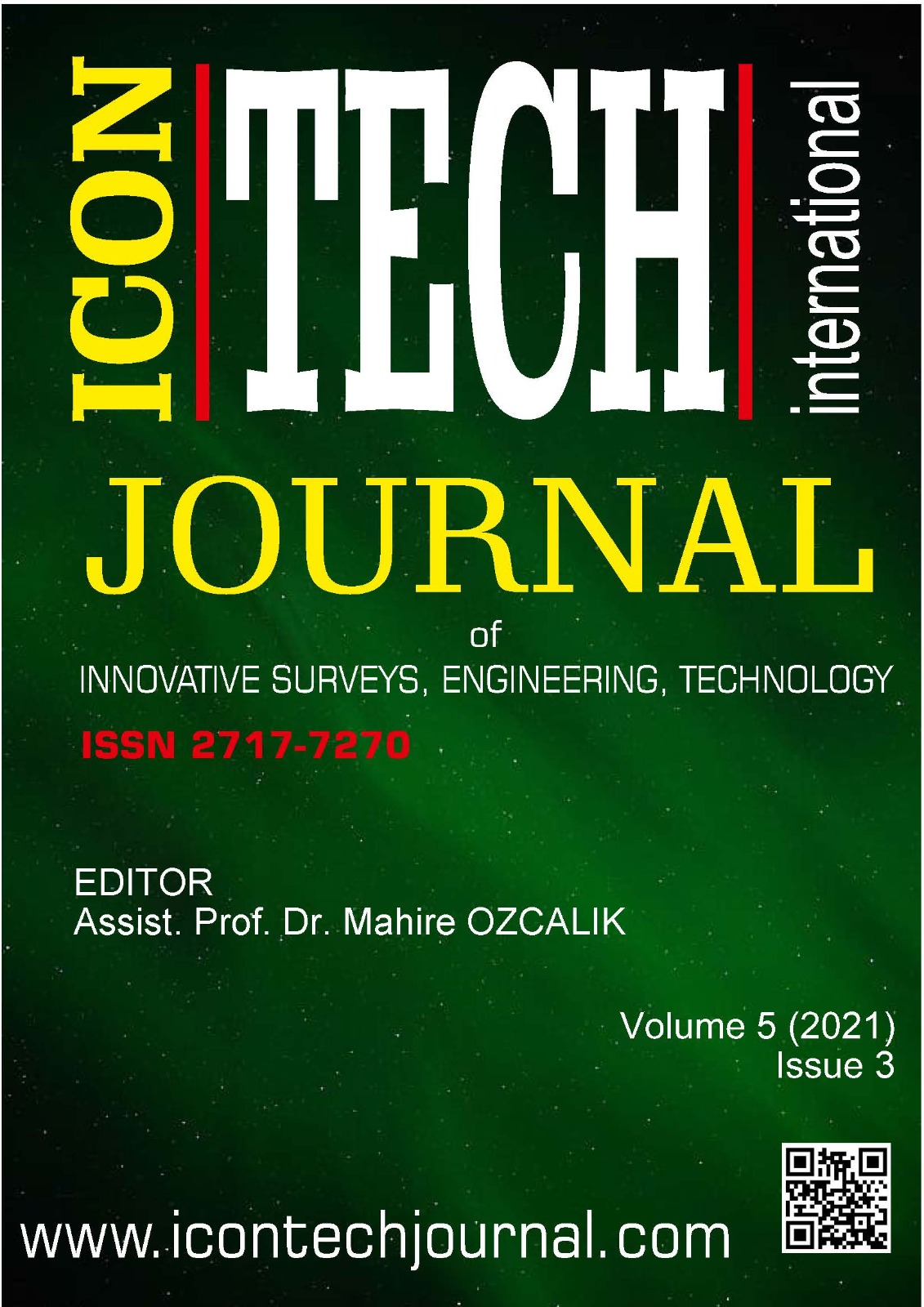 Downloads
How to Cite
Hanedan, B., BİLGİLİ, A., & Haydar Uysal, M. (2021). Kedi ve Köpeklerde Deri Mantar Enfeksiyonlarının İnsanlarda Oluşturduğu Sağlık Riskleri, Kontrol ve Sağaltım Seçenekleri. ICONTECH INTERNATIONAL JOURNAL, 5(2), 10–17. https://doi.org/10.46291/ICONTECHvol5iss2pp10-17
License
Copyright (c) 2021 ICONTECH INTERNATIONAL JOURNAL
This work is licensed under a Creative Commons Attribution-NonCommercial-NoDerivatives 4.0 International License.