CHARACTERIZATION OF CARBON FIBERS DERIVED FROM THERMALLY STABILIZED POLY(HEXAMETHYLENE ADIPAMIDE) PRECURSOR FIBERS
Keywords:
Poly(hexamethylene adipamide), Carbonization, Elemental Analysis, X-ray diffraction.
Abstract
The thermal oxidative stabilization and carbonization processes of poly(hexamethylene adipamide) or (polyamide 66) fibers were accomplished to transform into carbon fibers. Polyamide 66 fibers were pretreated with a ethanol solution of cupric chloride followed by a stabilization process in the air atmosphere. Carbonization experiments were executed at temperatures of 500, 700, 900, and 1100°C utilizing heating rate of 2.5 °C/min. Carbonization experiments were performed at temperatures between 500 and 1100°C employing the rises of 100°C. X-ray diffraction analysis of the carbon fibers shown a highly disordered carbon structure developed during the carbonization process. The values of fiber diameter, linear density, volume density, carbon fiber yield, elemental analysis, and electrical properties revealed a strong dependence on the carbonization temperature. As an insulating material, the polyamide 66 or PA66 precursor was transformed to a semiconducting stage after the thermal stabilization and carbonization processes. The current study demonstrated how processing parameters influence the structure and characteristics of carbon fibers produced from poly(hexamethylene adipamide) fibers.
References
Bajaj, Priyanshi, A. P. Gupta, and NISHMA OJHA. 2007. "Antistatic and Hydrophilic Synthetic Fibers: A Critique." J.M.S.—REV. MACROMOL. CHEM. PHYS. 40(2&3):105–38.
Chand, S. 2000. "Review Carbon Fibers for Composites." Journal of Materials Science 35(6):1303–13.
Damodaran, S., P. Desai, and A. S. Abhiraman. 1990. "Chemical and Physical Aspects of the Formation of Carbon Fibres from PAN-Based Precursors." Journal of the Textile Institute 81(4):384–420.
Edison, Thomas Alva. 1880. "Electric Lamp."
Frohs, Wilhelm, and Hubert Jaeger. 2012. "Carbon Fiber & Composite Material–Landscape Germany." Carbon 2(50):737.
Karacan, Ismail, and Kemal Şahin Tunçel. 2013a. "An Assessment of the Impact of Cupric Ion Complexation on Thermal Stabilization of Polyamide 66 as Carbon Fiber Precursor." Recent Res. Devel. Appl. Polym. Sci. 5(1):1–33.
Karacan, Ismail, and Kemal Şahin Tunçel. 2013b. "Thermal Stabilization of Poly (Hexamethylene Adipamide) Fibers in the Presence of Ferric Chloride Prior to Carbonization." Polymer Degradation and Stability 98(9):1869–81.
Ko, Tse‐Hao, and Chien‐Yuan Chen. 1999. "Improvement in the Properties of PAN‐based Carbon Films by Modification with Cobaltous Chloride." Journal of Applied Polymer Science 74(7):1745–51.
Ko, Young Gun, Ung Su Choi, Jeong Su Kim, and Yong Sung Park. 2002. "Novel Synthesis and Characterization of Activated Carbon Fiber and Dye Adsorption Modeling." Carbon 40(14):2661–72.
Liu, Yaodong, and Satish Kumar. 2012. "Recent Progress in Fabrication, Structure, and Properties of Carbon Fibers." Polymer Reviews 52(3):234–58.
Matsumoto, Tadayuki. 1985. "Mesophase Pitch and Its Carbon Fibers." Pure and Applied Chemistry 57(11):1553–62.
Pai, Chih‐Chiang, Ru‐Jong Jeng, Steven J. Grossman, and Jan‐Chan Huang. 1989. "Effects of Moisture on Thermal and Mechanical Properties of Nylon‐6, 6." Advances in Polymer Technology: Journal of the Polymer Processing Institute 9(2):157–63.
Parker, B. M., and R. M. Waghorne. 1982. "Surface Pretreatment of Carbon Fibre-Reinforced Composites for Adhesive Bonding." Composites 13(3):280–88.
Peng, Jimmy C. M., Jean-Baptiste Donnet, Tong Kuan Wang, and S. Rebouillat. 1998. "Surface Treatment of Carbon Fibers." Carbon Fibers 161–229.
Stuart, B. H. 1994. "A Fourier Transform Raman Study of Water Sorption by Nylon 6." Polymer Bulletin 33(6):681–86.
Sun, Junfen, Lishun Wu, and Qingrui Wang. 2005. "Comparison about the Structure and Properties of PAN‐based Activated Carbon Hollow Fibers Pretreated with Different Compounds Containing Phosphorus." Journal of Applied Polymer Science 96(2):294–300.
Yusof, N., and A. F. Ismail. 2012. "Post Spinning and Pyrolysis Processes of Polyacrylonitrile (PAN)-Based Carbon Fiber and Activated Carbon Fiber: A Review." Journal of Analytical and Applied Pyrolysis 93:1–13.
Zhang, Huihui, Liwei Guo, Huili Shao, and Xuechao Hu. 2006. "Nano‐carbon Black Filled Lyocell Fiber as a Precursor for Carbon Fiber." Journal of Applied Polymer Science 99(1):65–74.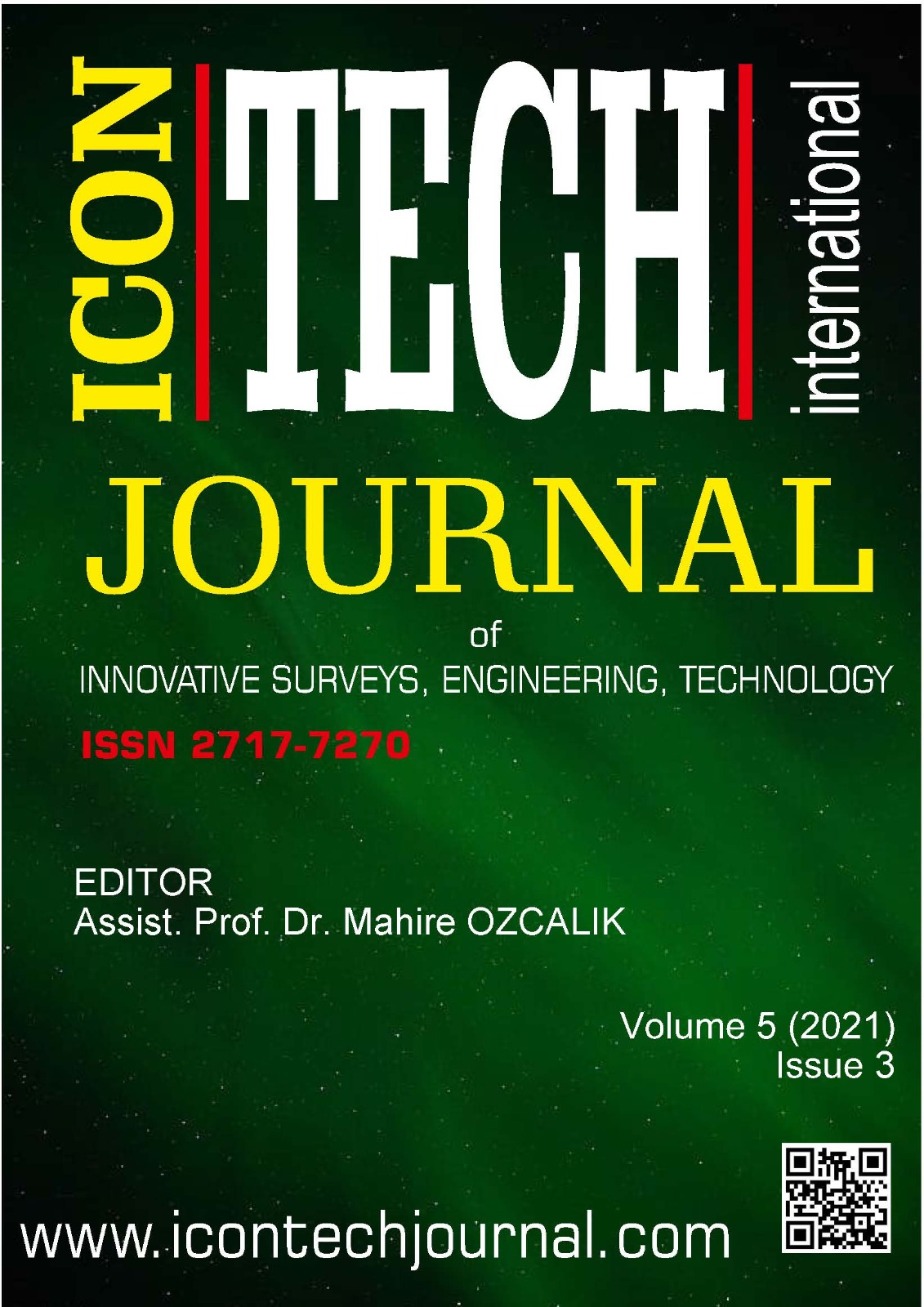 Downloads
How to Cite
Rahman, M., DEMIREL, T., & Karacan, İsmail. (2021). CHARACTERIZATION OF CARBON FIBERS DERIVED FROM THERMALLY STABILIZED POLY(HEXAMETHYLENE ADIPAMIDE) PRECURSOR FIBERS. ICONTECH INTERNATIONAL JOURNAL, 5(3), 48–55. https://doi.org/10.46291/ICONTECHvol5iss3pp48-55
License
Copyright (c) 2021 ICONTECH INTERNATIONAL JOURNAL
This work is licensed under a Creative Commons Attribution-NonCommercial-NoDerivatives 4.0 International License.